Do these statements sound familiar?
Do not use QBRs effectively to Reduce Ticket Noise
Do not realize that each meeting is a "crucial conversation"
Cannot close enough projects
Cannot not forecast revenues without client roadmaps and control
They are not segmenting clients for engagement activities
They are not planning their client engagement
They do not separate the seniorities to engage
They do not track the high touch activities
They do not do Strategy Meetings Separate
They do not do Tactical Meetings High Touch
Vague service offering
They do not assess the needs
We will discuss the following:
The Journey form the Mediocre Client Experience to the Excellent Client Experience
What is low touch CRM and high touch CRM?
Why MSPs are geared to strategic/high touch IT CRMS?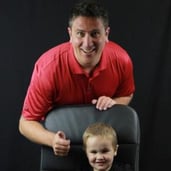 Growing up in Thunder Bay, Ontario in the 80s was an exciting time in the advancement of personal computers. Myles 1st job was at a dial-up ISP managing racks of 28.8K MODEMs that would often overheat, melt, and sometimes catch fire.
Having worked his way from the server room to the boardroom, since 1999, Myles works with IT professionals to standardize and communicate the business value of technology. Not just what an MSP does, but why they do it. This is crucial to long term client engagement in meaningful conversations.