Do these statements sound familiar?
Active Directory is antiquated in a SaaS application world

Deploying SaaS applications such as Salesforce, Dropbox, etc without a modern identity system leaves companies' security at risk as employees continue to have access long after their employment for the company ends

Maintaining secure unique passwords is a best practice, but most people struggle with this, and reuse weak passwords or store them insecurely leaving online accounts vulnerable.
Agenda:
Why identity management matters?
1. Vision
2. Strategy
3. Development
4. Marketing
5. Sales
6. Delivery
7. HR/Security
What to do to get to the next level?
Your Identify Management Expert Guide - Luca Jacobellis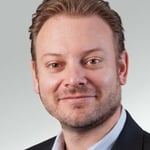 Founding member of Zerotek Luca Jacobellis is helping IT Managed Service Providers bring identity solutions to small businesses around the world. Previously, he served as President of Cal Net Technology Group, 2018's Managed Services Provider of the Year (Channel Futures) and Microsoft's 2018 Partner of the Year for Project Management & Modern Workplace. Luca was responsible for shaping the company's vision, overseeing both sales and technology business units, and building strategic partnerships. Over his 18-years of leadership, Cal Net successfully completed 3 acquisitions, diversified its technology portfolio, and grew from 3 to over 100 employees.