Take your remote presence to the next level
Do you represent your MSP as a true IT professional?
The quality of your remote meetings has a direct influence on your perceived professionalism. However, most vCIOs and AMs do not realize how mediocre their remote presence is.


Adam Walter shares his three secrets of a professional web presence on every budget:
Video - how to properly setup your video

Audio - how to sound like a podcast

Tools - how to be memorable, engaging and professional
I believe that MSPs, vCIOs and Account Managers should lead with professional remote presence and inspire their clients to elevate their remote meetings, as well.
If you want to differentiate and represent your company and yourself as a true IT Professional this webinar is for you.
He is not just dropping some hints and tips but providing a complete framework to take your (and your client's) web presence to the next level.
We know this is very new for most Account Managers and vCIOs. Figuring out how to look and sound professional and engage the audience in a remote environment is not an easy task. Adam has been working 100% remotely for 4 years as a vCIO coach, and he took years to work out what it takes to create a professional remote meeting.
Join us into the webinar and differentiate yourself and your company.
Your vCIO Expert Guide: Adam Walter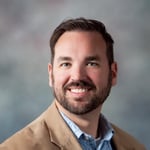 Adam has witnessed too many bad QBRs….. and felt this is what he can help with...
He has trained and crafted materials for MSPs around the world to deliver engaging & strategic sessions.